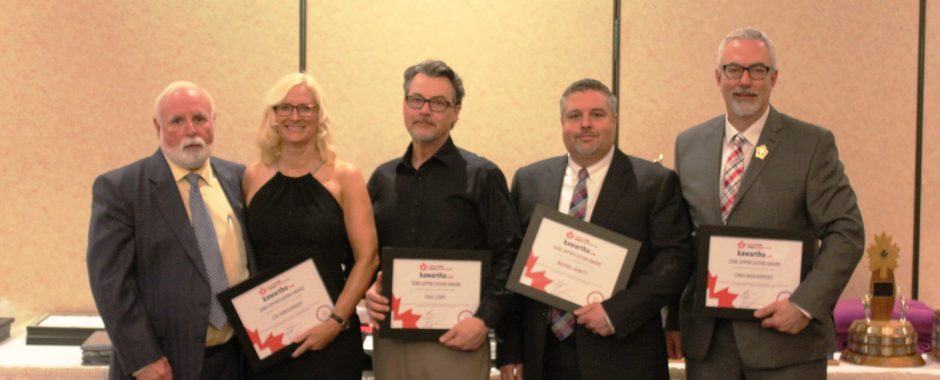 2016 / 2017 Kawartha Zone Award Winners
**********************************
Kawartha Zone Award winners recognized at Tosca Banquet & Conference Centre, Oshawa, Ontario on April 08, 2017.
Kawartha zone policy is to award pins for each 5 years of service to the system. The following patrollers were recognized.
5 Years of Service:
Lesley McMillan          Cheryl Myher          Corrine McTaggart
Mike McTaggart          Katie Plaunt            Gord Graham
Kate Smith                   Todd Bishop            Eryn Sims
Zarko Petric
10 Years of Service:
Kris Kobylinski          Denise Sebastian-Pyper
Ian Sachs                     Piotr Koscielniak                 Earl Milley
Tim McKenna
15 Years of Service:      Doug Edwards
20 Years of Service:     Russ Pyper
25 Years of Service:     Tim Legere               George Sharp
30 Years of Service:     Dan Volman
Zone Achievement:
Stuart McGhie       Steven Schwartzentruber    Angela Marie Leslie
Sanda Langer         Vanessa Bright
Zone Appreciation:
Paul Lewis             Lou Montgomery             Chris Moschopedis
Mike Hewett          Scott Sutton                     Janice Aluin
Supporter Award:
Conner Aimasy      Ellen Lewis                      Sharon Collins
Honourary Award:
Robyn Christie, Brimacombe Risk Manager.
Executive Recognition:
Jennifer Delaney, Paul Lewis, Stephen Fisher, Gary Collins
Penton Cup:
Eric Tish, Shawn Gallagher, Caroline Thompson,  Lou Montgomery (coach)
Mackenzie Cup:
Glen Porter, Karen Heffer-Shultz, Doug Edwards, Chris Moschopedis (coach)
Instructor of the Year:
Kevin MacDonald
Ontario Division Appreciation:
Daryl Schofield
National Appreciation:
Scott Douglas #1699             Lia Skelding #1710
CSP Award:
Ross Pawson #921
Kawartha Zone Life Member:
Robi Roncarelli #16          Bob Roque #14            Tim Legere #15
Rookie of the Year:
Kristen Nancekivell, Dagmar Patrol
Veteran of the Year:
Gary Collins, Brimacombe Patrol
Service recognition:
Peter Bakermans PL Dagmar
Jennifer Delaney, Director of CPR
Don Colwell, Bridgestone Racing Coordinator
John Toomey, PL Lakeridge
National Distinguished Achievement Award
AP Crawford
Zone Executive of the Year:
Dan Volman, VP Education
Patrol of the Year:
Brimacombe, Stephen Fisher PL.